A finding a suitable pregnancy pillow becomes very easy if you know which pillow is best for you, but how can you make that decision if you don't know how many Different Types of Pregnancy Pillows are available there.
Well, to help you to make that decision we write this ultimate guide, Different Types of Pregnancy Pillows!
As a pregnant woman, you often get advice from family and friends on the use of pillows so that you can sleep comfortably.
During pregnancy, it is crucial to get enough sleep. However, frequent visits to the toilet at night and trying to sleep comfortably with a regular pillow might make it challenging to have all the rest you need, causing you to have pains, acnes, and aches.
It is, however, necessary for you to have the pillows called The Pregnancy Pillows, which are an excellent remedy of pains and aches due to changing curves your body during pregnancy so that you can have proper rest.
Now, because there are a lot of Pregnancy Pillows in different shapes and sizes, it might be a little challenging to know which one would suit you best. But this is not our primary consume, in this article, we will only learn about Different Types of Pregnancy Pillows are available out there.
Different Types of Pregnancy Pillows
Since there are a variety of Pregnancy Pillows, different styles, shapes, and sizes, also the fabric, you need to make the right choice properly. Because that's the thing that going to support your body for the next few months.
So, let's check this!
1.) Total Body Pregnancy Pillows
If you always wake up with your back aching every morning, the extra spinal support given by Total Body Pregnancy Pillows is what you need.
This Shape of pillow wraps around the outer part of your body, making it more exceptional support for your pregnant body.
This pillow is usually around five or six feet long, large enough for most individuals to effortlessly curl up inside.
The pillow doesn't just hug your front but also hugs your back.
The Total body pregnancy pillow is available in three different styles. Each design is named after the letter it resembles and is slept with in different ways.
a.) U-Shaped Pregnancy Pillows:-
Just like it sounds, U-Shaped Pregnancy Pillows are designed to hug your body from all the sides. This kind of pregnancy pillow supports your head, belly, back, legs, knees, and hips.
But the primary purpose of this pillow to support your full body and the most selling pillow in the market.
This is best for you if you sleeping on your backs, tossing and turning a lot a night.
You don't need to change the position of your pillow, as you do with your ordinary pillow.
U shaped pregnancy pillow automatically gains the shape of your body as you flip on the bed.
More size means need more material to design, which directly affects the cost of the pillow.
That means if you want a U-shaped pillow then you have to spend more on it.
Check here a few more designs: Click Here
b.) C-Shaped Pregnancy Pillows:-
This type of pregnancy pillow has resembled in the shape of letter C. Its alternative option for those moms who feel claustrophobic in a U-shaped pillow.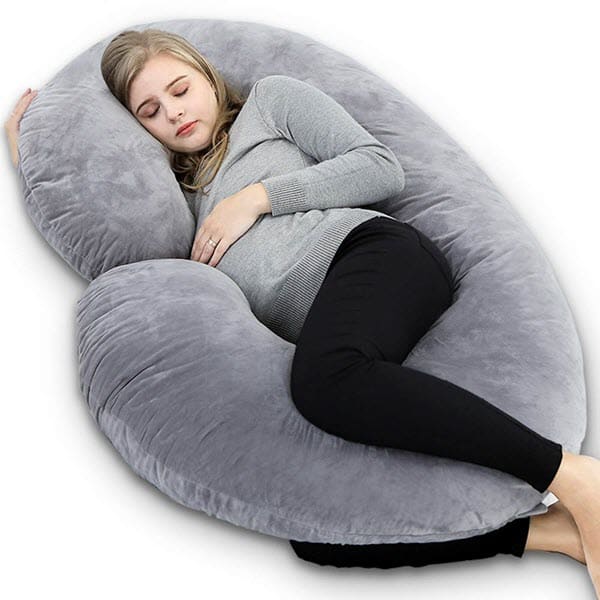 C shaped pregnancy pillow also supports your head, neck, back, but additionally, it supports pelvic area too.
You can use this pillow to relieve pelvic tension and also help to reduce water retention in the legs and ankles.
When using this pillow, you place the bottom of the C saddled in the middle of your legs, and then you rest your head on the top of the C.
And, you back snuggles into the curve of the C, which aids in relieving the pressure placed on your spine too. The best thing about this Pillow is, you can twist the c shape and can convert it into S-shape if you like.
It's also
good for plus-sized women
, it's one side open area gives you the freedom to use it in a variety of ways and shapes.
Check here a few more designs: Click Here
c.) J-Shaped Pregnancy Pillows:-
The J shaped pregnancy pillow use to support the belly, hips, and legs but you need an extra pillow for your neck if you buy this.
This primary purpose of this pillow if to support your belly and leg, that's why it's small in size.
But this small size makes it the best pregnancy pillow if you have a small bed or if you want to sleep with your hubby on the same bed.
I sleep facing it, resting my belly on top of it and tucking the curved parts between my knees and under my head.
This relieves all the pressure from my belly and hips. The make my sleep more comfortable.
Check here a few more designs: Click Here
2.) Full-Length Pregnancy Pillows:-
A full-length Pregnancy pillow runs along your body's length.
Its style is always straight and is great to cuddle. However, unlike other styles of pregnancy pillows, it doesn't provide enough support for your back.
This pregnancy pillow, which is a single unit that stays in one place, replaces the uses of many regular pillows along the side of your body when you sleep.
When you use regular pillows, you wake up to them scattered throughout your bed as a result of you tossing and turning through the night.
Full-length pregnancy pillows do not easily bend or twist just like regular pillows.
Unlike other smaller pregnancy pillows, they are designed to be cuddled and hugged.
While using the pillow, place your arms and legs around the full-length pillow with its center supporting your mid-section.
The full-length pregnancy pillow supports your whole body, and you don't need a head pillow when using it.
However, this pillow takes up more space in the bed and is not ideal for back sleepers.
Check here a few more designs: Click here
3.) Pregnancy Wedge Pillow:-
This is a little different type of a pregnancy pillow, it is designed to target the particular area that is the tummy.
You can slide it under your tummy also back to give you the much-needed support when you sleep.
Pregnancy wedge pillows help you to keep the weight from straining your hips and back And reduce swelling or proper hip alignment by spacing the knees.
You can use it in many says, like
Can use the pillow behind the back if you usually toss and turn while sleeping.
Use the wedge pillow under your regular pillow to lift your head, helping you to relive pregnancy reflux and heartburn.
Some pregnant women even use this pillow to help hold a heat pack
Or hot water bottle against their side too.
Size of a Pregnancy wedge pillow allows it easy to carry around when you travel.
Note:- Most pregnant women prefer pregnancy wedges because they are cheap and still usable after their pregnancy. For example, You can use it to get comfortable while watching the TV, use it to prop your regular pillow up: you necessarily do not have to be pregnant to enjoy this pillow.
Pregnancy wedge pillows are the smallest type of pregnancy pillows do not occupy much space in your bed, making it possible for your partner to sleep comfortably in bed with you.
I hope you like our Different types of pregnancy pillows guide valuable and information that helps you to make a valuable decision in the future.
What Do We Recommend?
It's always a bit challenging to pick the best types of Pregnancy Pillow that suite you.
If you ask me, which shape is best for me, then definitely I recommend to go with Total Body Pregnancy Pillows without any doubts.
Go with U-Shape pregnancy pillow, if you like full-body support as you get in u-shape Or go with C-shape if you feel claustrophobic when something hugs/around.
The only reason to go with wedge pregnancy pillows, if you don't have a good amount of budget. And the J-shape you can buy if you want both small and cozy things to put between legs.
If you still need help to choose then check this ultimate guide, how to choose a pregnancy pillow?
Now, it's your turn, what you think which shape of the pillow is best for mom and why. And let me know if you have any question about the type of pillows
Don't forget about to share the article because sharing is caring.
Sakshi Patel
Senior Content Writer
Sakshi Patel is a busy Mom who enjoys spending most of her time with her cute daughter and a pet dog. She joins us as a senior content writer, and because of her creative writing style, has become our top-rated content writer