Top 5 Best C Shaped Pregnancy Pillow [2020]
You can change your diet, daily experience, and your lifestyle, but what you can't change is your sleeping style, because you are in sleep. lol
One of the most common complaints from pregnant women, especially with the advancing pregnancy, is the lack of quality sleep. This can be either due to changes in the body that cause them physical discomfort or another big reason is always alterations in sleep cycles.
Sleeping plays an important role in restoring your energy; that's why you need a specially designed C shaped pregnancy pillow, which helps you to get better sleep.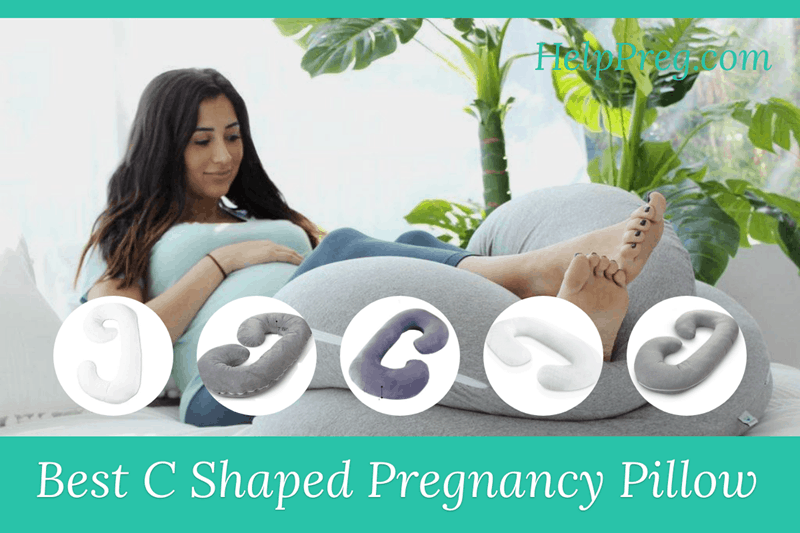 The nine-month pregnancy period demands a lot of physical and emotional energy from the mother. So, It becomes the top priority of every soon to be a mother to take care of herself first, so that her baby remains safe and healthy.
If you are a would-be mother who loves to sleep on their side or have neck pain, which is very common in pregnancy, or if you want just to support your belly while sleeping, then C shaped pregnancy pillow is, without doubt, the best option for you.
To help you sleep better, we have enlisted the 5 best C shaped pregnancy pillow out of 15 to help you to make an educated decision.
Quick Comparision of C Shaped Pregnancy Pillow
List of The Best C Shaped Pregnancy Pillow
Getting a good night's sleep, provided to you by these C shaped pregnancy pillows, is a total necessity & absolutely worth it. When you are well-rested, you can easily get on with your daily routine without feeling like you've been tossing and turning all night and are tired and low energy.
That is why we have chosen the top 5 Best C shaped Pregnancy Pillow to help you get the rest that you need.
Let us check these C shaped Pregnancy Pillows, one by one, and check which one meets your needs.
1.) INSEN C Shaped Maternity Pillow With Cover
The INSEN Maternity pillow gets #1 ranking on our list, and there are valid reasons for that.
The INSEN company has been known as one of the leading quality brands since the beginning. They not only create products that are reasonably priced, but they do their best to ensure a great guarantee program as well. They offer a 100% refund for the first 90 days. Yes, 90 days return policy.
If that doesn't win your trust, the quality they offer, sure as well, might do. This pillow has great dimensions – 58 x 28 x 7.8 inches, which is suitable for women of all heights and body shapes and as well as sizes.
The pillow fits according to your physique and offers exceptional support to your back, knees, hips, shoulders, neck, and torso.
It allows a perfect side sleeping support that will enable you to sleep safely as well. If you don't know how to use or even how to sleep on it comfortably, then I recommend you to read this article: How to Use C shaped Pregnancy Pillow?
While there are so many good things that we love about this pillow, the first would be a high comfort level, and the second is that it's 100% foldable.
While there are so many good things that we love about this pillow, the first would be a high comfort level, and the second is that it's 100% foldable.
You can easily adjust it to whatever desired position you want to, and it will abide, relieve you of any strain, stress, or tension.
The filling of this INSEN C Shaped Maternity Pillow is dense and perfectly adapts to your body shape and contours. Furthermore, it provides your body segments with adequate support and great cushioning.
It features a velour cover paired with silk cotton sides to give you that maximum plush and smooth feel to touch. 
And the good news is, it comes in four fun colors, each pillow has its heads "Click here To Check."
Don't worry about the maintenance; its cover comes with it and is zipper style, which means it's easy to clean and is machine washable too.
So, what else do you want from this best C shaped pregnancy pillow? Click the link below to gift this well deserved, excellent gift to yourself.
2.) PharMeDoc C Shaped Pregnancy Pillow:
PharMeDoc Pillow is another great C shaped body pillow, just like the first one. The only difference between both of them is its size and flexibility, This pillow is available in five colors (check the colors shades)
This C shaped full body pillow supports your neck, head, back, hips, and knees, helping you get the best possible sleep.
The manufacturer specifically states that they have designed this product with a focus on helping people with back pain.
Since pregnant women exclusively feel a strain on their lower back as the pregnancy advances towards the third trimester, this pillow would serve as great comfort.
It has a zipper along its length that lets you slide the cover off easily for changing covers, or to clean it.
The pillow cover is hypoallergenic, which is great for people with allergies or sensitivities of respiratory systems. It also contains zero phthalates, latex, or lead and is totally BPA free, which again is excellent for people with sensitive skin. And it's even machine washable.
The softcover is very comfortable to sleep on. The neutral colors are unisex, so even your husband can sleep on it if needed.
So, what are you waiting for? Click the below link and buy C shaped pillow, which you can use as well as your husband?
3.) Chilling Home C Shaped Full Body Pillow:
One of the large C Shaped pregnancy pillow which supports your full body.
This Chilling Home pregnancy pillow is a fluffy, fully wedged pillow that offers solid support to your head, neck, shoulders, legs, ankles, and back. It also lets you snuggle your baby bump into a secure position for a comfortable sleeping experience.
We ranked Chilling Home C Shaped Full Body Pillow  #3  on our list of the best C shaped pregnancy pillow because we think it offers great support to your entire body.
Many women find it hard to sleep on their side, even though its recommended. But with this pillow, you feel someone snuggle you and hug big size pillow between your legs, help you to raise your leg to sleep on the side comfortably.
It's stuffed with high density, extra soft bionic polyethylene, which retains its bouncy softness and springiness even after a long time.
It stays durable for long.
Primarily, it is designed as a pregnancy pillow; however, it is multipurpose.
You can use Chilling Home C Shaped Full Body Pillow to alleviate symptoms of fibromyalgia, reflux, congestion, and ankle pain too.
However, we do not recommend this for sciatica pain, because it is not designed for that purpose, but you can still use it.
If you have sciatica pain, which is very common in pregnancy, then I recommend going with especially design pillow for it. Check our list of the best pregnancy pillow for Sciatica pain
Need, more Information on it, Check this guide: Do Pregnancy Pillows Help With Sciatica 
If you want to know specifically about this pillow, then I think you should have to read of Do Pregnancy Pillows Help With Sciatica article.
This pillow is covered in velvet or 100% hypoallergenic PP cotton; it is designed to prevent any allergic reactions or irritation.
The cover unzips, which means that you can easily remove it for cleaning. The good thing is that Chilling Home C Shaped Full Body Pillow is also machine washable, which makes the whole process easy.
You can buy this pillow from our link to save some buck on it.
4.) Restorology C Shape Pregnancy Pillow:
As the name suggests, the pillow is designed around a 'quality rest' achievement. While this pillow offers really good comfort for pregnant women, it has also been effective to get long term use out of it for other conditions as well.
It helps relieve pregnancy-related discomforts such as back bain, legs or ankle pain, hip discomfort, even heartburn too.
If you closely look at the pillow, you will observe this C shaped pillow is very slim and lightweight, as compared to the above 3 mentioned.
But this compact design has its own advantage too.
It takes less space on the bed, which means your partner doesn't need to buy another bed to sleep. lol. The second thing is that you can easily switch your body position while using this pillow, which is a little bit difficult in large size pregnancy pillows.
It's an average-sized pillow, so if you're anywhere between 5 to 6 feet, you can quickly get the best out of this pillow.
There is even more superior pillow with the same function, which is Leachco Snoogle Original if you are willing to pay a little higher amount, then this product is good in all terms.
You can travel with it or even take it to the hospital as your labor approaches.
This pillow also comes with a satisfaction guarantee, which means if it doesn't work for you, you can contact the company within the first 30 days of purchase to get a full refund.
So, what else you want from this pillow? Buy it now by clicking the link and take it with you even to the hospital, to get a comfortable sleep.
5.) COMFYSURE C shaped pregnancy pillow
With COMFYSURE C shaped pregnancy pillow, our #5 ranked pillow, you get quality and affordability. Yes, with the fancy pillows, the price tag also rises. But with COMFYSURE you don't have to compromise on either of those aspects.
That's why it is on #5 on our list of the best C shaped pregnancy pillow.
This C-shaped pillow is crafted from 100% polyester. It offers excellent support to your back, legs hips, and ankles. It is made from hypoallergenic materials, which means you won't have to worry about allergies or sensitivities with this affordable pillow.
However, the cover doesn't come off. But the pillow itself is machine washable, which is another good thing, only if you have a machine that can accommodate the size of this pillow.
If you don't, there's always the option of visiting a laundromat.
This is a relatively large pillow. With a length of 56 inches, it will work for women of any height and stature.
It is two feet wide, which means it won't take up space on the entire bed, leaving enough room for your partner to sleep with you.
What we like best is how easily foldable it is. You can use it to sleep comfortably, prop yourself on the bed as you lay and watch movies, or even on the sofa as back support.
COMFYSURE C shaped pregnancy pillow is a versatile pillow and even helps you find postpartum comfort and with breastfeeding. It can also be used casually by anyone suffering from back pain, regardless of age, gender, or the particular affliction.
So, in short, it is a must-have C shaped pillow, so that anyone can enjoy a comfortable sleep. So, just click the below link and get this pillow form our verified seller with manufacture warranty.
I hope you found our best C shaped pregnancy pillow guide informative and helpful to make a valuable decision for your C shaped pregnancy pillow purchase.
What  Do We Recommend?
Pregnancy is generally a difficult time for the body, which undergoes many changes while the baby grows, and the baby bump gets bigger.
Deciding on which pregnancy pillow to invest in can be confusing. However, with thorough research and comparing different features of the best c shaped pregnancy pillow, we are hopeful that you can find the perfect pillow suitable for your needs.
If you want our preference, we stand by our #1 ranked, the INSEN pregnancy pillow. It has all the necessary features you need for full-body support.
It not only helps support your belly, hips, legs, back, and ankles but also helps you easily switch positions while you sleep. This lets you sleep comfortably and hassle-free.
The second one that I would like to recommend to you is the Restorology Maternity pillow, affordable and slim in size, for those who feel suffocated when they snuggle someone, especially the pillow.
If you prefer something else, you could always go with other mentioned pillows. The ranking does not in any way mean that the lower-ranked pillows fall behind in quality in any way.
If you still need help to make a decision, I recommend checking the below articles to make a more valuable decision.
We have shared our knowledge with you. Now we encourage you to do the same. Let us know which pregnancy pillow worked out best for you and why?
And if you found this article helpful in any way, do not forget to share it because sharing is caring.
Sakshi Patel
Senior Content Writer
Sakshi Patel is a busy Mom who enjoys spending most of her time with her cute daughter and a pet dog. She joins us as a senior content writer, and because of her creative writing style, has become our top-rated content writer