Top 5 Best Pregnancy Pillow for Stomach Sleepers
Are you are a mom like me who loves to sleep on her stomach and now you are pregnant and have a big belly but you still want to sleep on your stomach? Then you are in the right place.
With the baby bump though, sleeping on your stomach seems physically impossible. That is why there is a specialized pregnancy pillow with hole for stomach to help you find good old comfort while you sleep.
From morning sickness to cravings to mood swings and watching your body change with each passing day can be quite an ordeal.
As it progresses, nothing gets easier. That's a given.
However, different women have different experiences. While it may not be all bad, there are a few things common to all women.
One of the topmost complaints of pregnant women as their pregnancy advances is having difficulty sleeping. It can either be a change of sleeping patterns or finding a comfortable sleeping position.
With your baby bump growing, it can be hard to resort to your prepregnancy sleeping positions.
We find comfort in things that we have been doing previously. So if you have been sleeping on your stomach and it was possibly the only way to help you fall asleep, then chances are high that you will want to do so while you're pregnant.
With so many options to choose from, we've compiled a list of the Best Pregnancy Pillow For Stomach Sleepers.
So, keep reading to figure out which one would suit you the best.
Quick Comparision Of Stomach Sleepers
| Product Image | Product Name | Pillow Shape | Buy Now |
| --- | --- | --- | --- |
| | Cozy Bump Pregnancy Pillow To Lay on Stomach | Lay on Stomach Sleeper | Price |
| | Back & Bump Comfort Pillow For Belly Sleepers | Belly Sleepers | Price |
| | HOLO Original Inflatable Maternity Pillow With Hole | C Shaped | Price |
| | The Mommy Pregnancy Pillow for Stomach Sleepers | Stomach Sleepers | Price |
| | Belly Down Pregnancy Pillow For Belly Sleepers | C Shaped | Price |
Best Pregnancy Pillow For Stomach Sleepers
Finding a pillow that restores the comfort of the sleep that you are used to is quite difficult and it becomes impossible if you don't know which is better and fit you need.
That's why we filter out the 5 top-rated pillows out of 10 pregnancy pillow for belly sleepers, that you can use to lay on the stomach.
1.) Cozy Bump Pregnancy Pillow To Lay on Stomach
The Cozy Bump Pregnancy Pillow gets #1 on our list because it has a comfortable bed like design, with layers broken down into segments to support different parts of the body.
The upper segment that has a circular opening is inflatable and also has a hole is in the middle of the pillow which adjusts to your baby bump comfortably.
The leg section has a slight decline which relieves stress from legs and a slight elevation towards the lower back and hips.
This position has been indicated to reduce the chances of C-section and painful labors.
Sleeping on this pillow will prevent you from tossing and turning all night from restlessness or lack of comfort.
With the adequate support to your growing baby bump, it provides comfort in the last trimester where all else fails.
As for the cover, it is made of PVC fabric. It is phthalate-free, cadmium-free and azo-free. Little confusing, lol, let me explain in simple words.
Means, if you're someone with sensitive skin or prone to allergies, this pillow will work great for you.
Additionally, there is a thin 100% cotton cover over the hole to provide the baby bump with extra support and comfort.
One of the best things I like about this pillow is that it does not fill with your everyday filling material used in regular pillows.
It is filled with air. This aspect makes this pregnancy pillow is portable.
All you need is just an air-PUMP to reshape it.
The benefit of this belly down pregnancy pillow does not end here, let me just highlight what I can do with this pillow.
Comfortable sleep at night on the stomach
For prenatal massages
Can use it as a lounge in the pool.
Can use as a back pain & tension reliever
Can do back exercise on the pillow which is impossible for the pregnant mom.
Note: Cozy Bump Recently launch a new version of this pillow in which the part that supports your neck/chin is detachable, So you can use or remove this part according to your need and preference. Check out the new version
Last but not the least, it comes with a belly swaddle. Say goodbye to the nuisance of getting all sweaty sleeping on summer nights, this cotton swaddles keep you dry at night.
What else could you want from this amazing and best pillow for belly sleepers? Click the below link to get the comfortable sleep you deserve.
2.) Back & Bump Comfort Pillow For Belly Sleepers
The second pillow that gets ranked #2 on our list of the Best Pregnancy Pillow For Stomach Sleepers is Back & Bump Comfort. Why we put this on #2 rather than putting it on #1 is, because it does not support chest and chin.
The materials and functionality are similar to the above one. But this pillow has a very specific hole in the middle for the baby bump with an adjustable air chamber.
Laying on it feels like you're on top of an air mattress or pool float.
The shape is more dimensional and it offers a little more elevation off the ground. This helps you feel secure and snug.
It can easily accommodate a person 6-foot tall and the great thing about this pillow is that it was designed by a nurse.
This product has gone on to be reviewed by OB/GYN's and Chiropractors.
It has also won awards such as Baby Maternity Magazine, Mom's Choice and New York Baby Show.
The design and inflatability allow you to use it creatively. You can use it as a pool float, to lay on your stomach and watch movies or work on your laptop or to even just exercise.
The elevation segment at the hips reduces the strain on your spine, helping you relax and finding comfort. This pillow will help you rest throughout the day and sleep peacefully throughout the night without tiring you out.
If you are searching for the best price for this pregnancy pillow with hole for stomach, then click our link to save some bucks.
3.) HOLO Original Inflatable Maternity Pillow With Hole
HOLO Original Inflatable pillow is another good pillow design by a pregnant mother who craved to lie on her tummy while pregnant, so you can guess the comfort you are going to buy with this pillow.
It's a simple solution for everyone who loves to sleep on their tummy and its a life saving for a pregnant mom who loves to sleep on her stomach.
This inflatable and portable pregnancy pillow is a flat, full body-sized pillow that you can technically carry anywhere with you.
To the pool, to your yoga class, to a friend's house or even to the beach.
The simple design comprises of a rectangular inflatable unit with a hole in the middle for your baby bump to snugly fit into.
The soft segmented texture of the cover is designed to help you overcome body aches and pains, with hip and lower back as the core target.
The only downside we see to this inflatable pregnancy pillow is that it may not support your breasts as the above two mentioned pillows would.
Women leaning towards the smaller side may not experience this, however.
Just because you're pregnant and nearing labor does not mean you miss out on the fun things in life due to a lack of comfortable options. With this pregnancy pillow, you carry your comfort with you everywhere.
Note: All the above 3 pregnancy pillow comes deflated and packed. You will either need to have someone blow it up for you or use an inflator. It is very easy to set up. Just inflate it and put it to use anywhere you like.
4.) The Mommy Pregnancy Pillow for Stomach Sleepers
Like we mentioned earlier, inflatable pregnancy pillow with hole for stomach may not be everyone's cup of tea. Some people prefer the good old plush comfort of cushions and pillows.
The material is plush with ultra-fine microbead filling that will adjust to the contours of your body providing you with ample support and comfort.
And this is the thing that puts this pillow on our #4 position on the list of Best Pregnancy Pillow For Stomach Sleepers.
The cover does not come off which the creator feels that after a lot of trial and testing, the removable cover would have issues with fitting after each wash.
So you can either just hand wash the entire pillow or when needed or just vacuum it.
Secondly, it is not a full body pillow. It only supports the torso and your head.
The end of the pillow is slanted slightly to provide your legs and lower back relief from pain.
There are three size options available ranging from 15" onwards for women with different body types and the size of a baby bump.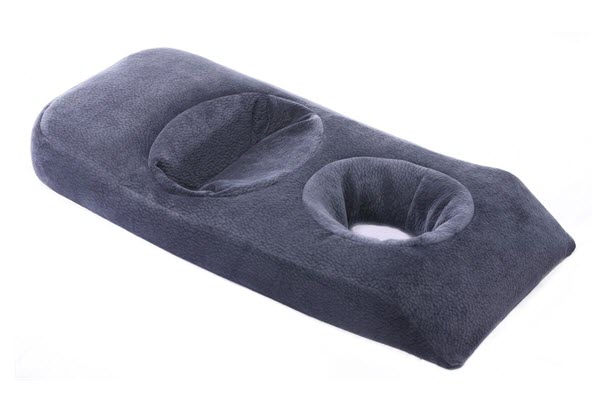 This is important because, unlike the inflatable pregnancy pillow mentioned above, you cannot adjust the size of the hole to your liking.
The hole also has a slight elevation to keep the baby bump pressed downward and your diaphragm raises to prevent heartburn, nausea, and strain.
The feature we loved most is that it provides a comfortable depression to accommodate breasts so that you may lay down or sleep on your stomach without feeling pressure on your chest.
The extended portion at the front gives you enough space to rest your head and neck for the perfect nap. You can buy this plush comfortable cushion from our verified seller to get the manufacturer's warranty.
5.) Belly Down Pregnancy Pillow For Belly Sleepers
We went on and chose pillows that we thought would cater to different needs and comfort levels. A lot of people do not like big fluffy pillows or body huggers that make them feel suffocated.
Sometimes a simple minimal pregnancy pillow for stomach sleeper does the job.
The Belly Down pregnancy pillow lets you sleep face down, comfortably throughout your pregnancy.
It's a small pillow that supports your torso only. This means you can easily shift your legs and choose a pillow of your liking to sleep on.
It is built from an open-cell foam covered with a 100% cotton cover.
This pillow is small and snug enough to fit into your regular pillowcases too. Yet it is large enough to support your growing pregnant belly and tender breasts.
It provides and soothing upkeep to both of these parts. What we like is how it can be used for different purposes.
You can put your infant in it while you nap without worrying about him sliding off the bed. Breastfeeding mothers may yet find it useful to cradle their breasts for additional comfort. You can use it as a back support pillow.
It's also great for people with limited sleeping space or those who wish to sleep with partners while sleeping comfortably in their stomachs.
This pillow was developed by a chiropractor who has worked with hundreds of pregnant women over a decade, this pillow helps you sleep without straining your legs, hips or back.
I hope you found our best pregnancy pillow for stomach sleepers article informative and useful enough to help you make a valuable decision.
What Do We Recommend?
The order we have listed these products are the ranks we have given them by considering the functionality, comfort, cost-effectiveness, and aesthetics.
Finding the best pregnancy pillow that meets your needs is difficult and it totally depends on your needs.
But still, if you ask me what I recommend then I would recommend you to go with the #1 product which is our Cozy Bump Pregnancy.
It has all the features you need to support your growing belly.
This pillow supports various parts of your body, like, belly, hips, chest, chin, etc. It is an all in one pregnancy pillow for stomach sleepers.
If you want something less expensive than the above one, then you can go with HOLO Original Inflatable Maternity Pillow. It is also a good pillow made up of durable material for long-lasting user experience.
For those who like old plush pillow can go with any of the above pillows, depends upon their needs.
Still need help to make a valuable decision, then check out How To Choose a Pregnancy Pillow. This in-depth guide gives you the brief overview to choose the best pregnancy pillow according to your needs
Now, it's your turn. Let me know which pregnancy pillow you are going to buy to sleep or lay on your stomach and why. Your quick answer will help other pregnant moms.
And don't forget to share this useful article with the person who needs it.
Sakshi Patel
Senior Content Writer
Sakshi Patel is a busy Mom who enjoys spending most of her time with her cute daughter and a pet dog. She joins us as a senior content writer, and because of her creative writing style, has become our top-rated content writer